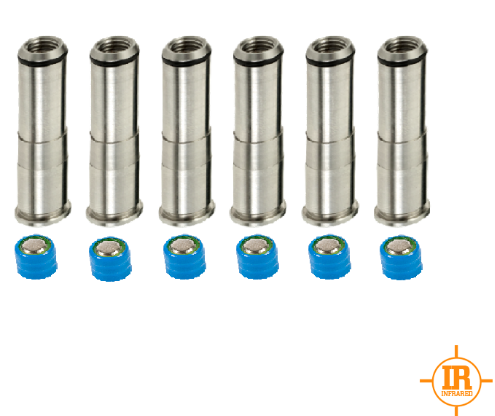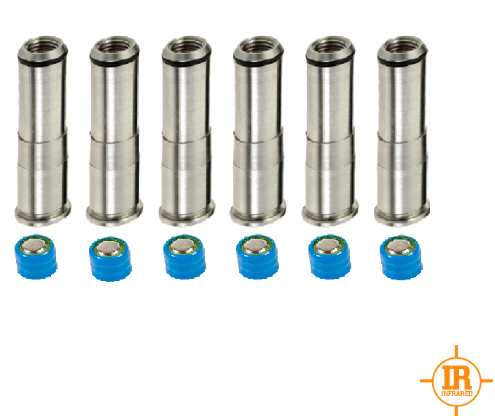 Why wait for your revolvers cylinder to fully rotate back to your loaded SureStrike chamber? With our SureStrikeTM 38/357 Pro 780IR Six Pack you can now fully load your revolver and train with laser dry fire with every pull of the trigger. Where the original SureStrikeTM 38 Special / 357 Revolver Pro Six Pack cartridges emit a shot of visible red laser light giving instant visual feedback. The SureStrikeTM 38 Special / 357 Revolver IR Pro Six Pack Cartridges add an extra layer of difficulty by using a naked to the eye infrared laser instead.
The impact can be seen ONLY with a Simulator, L.A.S.R. Software or Aimwell electronic targets.
Without a visible laser indicator you must trust your sight picture and trigger control. When combined with the L.A.S.R. Pro Software and IR webcam or the AIMWELL Targets they can detect the IR laser pulse and give you instant hit feedback with an audible tone. The L.A.S.R. Pro Software also allows you to take control of your training by keeping track of shot placement and times even allowing you to save your targets and accomplishments.
Load the 38 Special / 357 cartridge into each of the cylinders and you are ready to shoot! There is no need to use the safety pipe and nut with a 38 Special/ 357 cartridge.
Includes:
Six 38 Special/ 357 SureStrikeTM 780IR laser cartridges

6 Battery packs