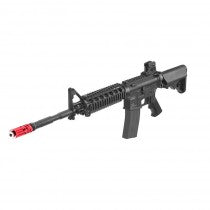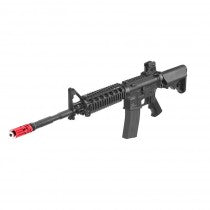 The Recoil Enabled Training AR15 Rifle is the best AR solution for rapid fire with lasers and blowback. Use it with the I-MTTS electronic targets, Smokeless Range® Simulator or LASR software. Continue training outdoors with pellets. 

Now you can use an AR platform airsoft for safe, effective and professional rifle training. The recoil enabled rifle includes a quality KWA LM4 RIS PTR gas blowback airsoft rifle with the Laser Ammo FLASH adapter and your choice of an infrared (invisible) or red (visible) vibration activated SureStrikeTM Cartridge.
The Laser Ammo FLASH replaces the flash suppressor adapter on the airsoft rifle.

* The rifle comes fully assembled with the FLASH conversion kit and laser.
** Green gas not included. Please make sure to purchase gas to operate the training gun.
KWA Performance Industries offers a 90-day warranty from the original sales receipt
*Although Airsoft guns are not classified as firearms and are legal for use by all ages under federal law. In some municipalities and states, there are restrictions on Airsoft guns. New York City, Washington, D.C., Chicago, San Francisco, and parts of Michigan outlaw Airsoft guns entirely. – the buyer should check the rules and regulations of his specific location before placing an order.