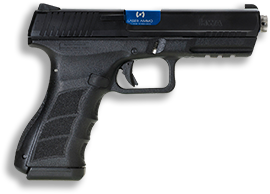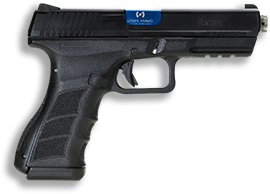 Sale
Recoil Enabled Training Pistol:   ATP-LE

Bring the range to your home and office – the only training pistol with recoil and sound that will let you train as if you are in the range, without the range cost.

Professional tactical training for home defense is now easier than ever. Train with your family and friends for real scenarios and realistic drills, with no need to cycle the gun, anytime, safely.

The recoil enabled training pistol includes a KWA ATP - LE gas blow back airsoft pistol (fits many of the Glock holsters) with the Recoil Enabled Airsoft Laser (REAL) drop in barrel and a vibration activated SureStrike™ cartridge (choose between red/ visible or infrared/invisible).

Pair the training pistol will the I-MTTS and the Smokeless Range® simulator for a full tactical and judgmental training session with 100% safety.
Continue to train outdoors with pellets: the package includes the original ATP- LE barrel to allow for an easy conversion for the best-in-class airsoft that allows for even more training outdoors.
*        The gun comes fully assembled with the Laser conversion barrel and Laser.
**       Green Gas not included. Please make sure to purchase gas to operate the training gun.
***     If you are using the Smokeless Range® Simulator with the ATP-LE pistol, we require use of the IR Laser
****    For dry fire with Laser, make sure to pull magazine follower spring down.  ATP Magazine Follower Removal video demonstration
KWA Performance Industries offers a 90-day warranty from the original sale receipt. Using the KWA pistol with the REAL barrel may limit or revoke this warranty. Please submit all RMAs through Laser Ammo directly.
*Although Airsoft guns are not classified as firearms and are legal for use by all ages under federal law. In some municipalities and states, there are restrictions on Airsoft guns. New York City, Washington, D.C., Chicago, San Francisco, and parts of Michigan outlaw Airsoft guns entirely. – the buyer should check the rules and regulations of his specific location before placing an order.